KCPA all new KIDS CAMP 2018 July16th-20th Register today!
Need a vacation from your kids vacation? Send them to us!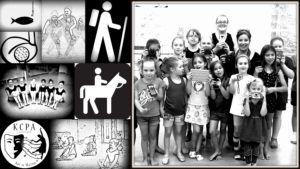 This year we have an all new Day Camp for elementary age kids combining arts and sports: horseback riding, swimming, hiking, survival skills, and more!
We will have a great time exploring all the classes KCPA Studio has to offer:
dance, drama, music and acro.
We also include three days away from the Studio: Farm Day, Field Day and Museum Day.
Schedule: